A son. A wife. A friend of a friend. A stranger.
They live in different parts of the country and come from different backgrounds, but they share one thing: they have each given a kidney to someone who needed it.
The kidneys are a very important part of the body because they remove waste and extra water from the blood. If they aren't working then these toxic materials won't be removed from your blood so it's important to go to a place like the Nephrology & Hypertension Medical Associates (http://www.thekidneydocs.com/) if you fear your kidneys aren't functioning properly.
Perhaps you've checked that box on a form at the DMV indicating that you're willing to donate organs and tissues, but have you ever wondered what it would be like to be a living organ donor? We talked with individuals in our community about the life-changing experience of donating a kidney.
"I went by faith that it was something I was supposed to do."
Melissa and her daughter used to hear about people needing organ donations, and they would ask each other, "Would we do that?"
Yet they didn't hesitate when Melissa saw a post on social media that a friend's sister-in-law was in need. She and her daughter both went to get tested, and Melissa turned out to be one of two candidates for the donation.
"The other person was a relative, but turned out to be pre-diabetic, so I went ahead and did it."
Melissa makes it sound like it's no big deal, but for those living with kidney disease, living organ donors are a pathway to a better quality of life – or life, period.
"Don't make it about me," she says. "Every day, people are dying. People that need a kidney are afraid to ask for a kidney."
Melissa found the screening and preparation process to be "rougher than she expected," mostly due to some unusual test results along the way. It took a few months before she found out that she was the best match for the patient.
Her husband was supportive of her plans to donate, but some of her friends were less so. One friend in particular was very opposed, out of concern for Melissa's long term health. Yet Melissa felt strongly about her decision: "I can't hold on to my parts if someone needs them." She chose not to tell others about it until afterwards to keep them from worrying, and to this day, Melissa and her friend don't talk about her donation.
Melissa scheduled the procedure when she could best fit it in with her work and vacation schedule – in her case, over Christmas break. "The hospital was fabulous; they took such good care of me. I felt they watched out for my mental health and my physical health."
As for the procedure itself, Melissa laughs, "It really wasn't much….This was so much easier than having a baby!" Still, she had received advice from another organ donor to stay in the hospital for several days before heading home. All in all, the procedure and recovery took about two weeks.
"It was something I considered pretty darn easy to save someone's life," Melissa concludes. "I went by faith that it was something I was supposed to do."
"They said she wouldn't live six months."
Cary's mother started out life with only one fully developed kidney. When that kidney started to fail as a result of medications she took for her rheumatoid arthritis, dialysis was the next step to keep her alive.
"I would take her to dialysis center," Cary recalls. "It was a room filled with La-Z-Boy chairs." Dialysis sessions lasted approximately four hours per day, three times per week. They would go to the dialysis center during the same timeframe and got to know other patients, but after a while, he started noticing the La-Z-Boy chairs empty – presumably, because the patients passed away or didn't return. He was especially concerned about young Hispanics he used to see at the center. "People decided they didn't want to live that way [and died by] suicide."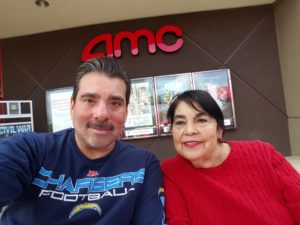 During one visit, solution from the machine his mother was hooked up to entered her veins, causing her to feel a burning sensation. She could not complete the dialysis session required to clean her blood. Because her blood was not being filtered long enough, "they [her doctors] said she wouldn't live six months."
That was 23 years ago, and thanks to Cary, the story has a happier ending.
But before his mother could receive the donation, Cary needed to get his siblings on board. "I'm Hispanic, and the youngest isn't usually the one who takes responsibility. The oldest usually does." Cary made the case to his siblings that he was in the best position to be the organ donor, since at the time he was single with no kids, in comparison to his siblings who were married with children.
"I sold it to my siblings. They agreed. After that, we moved fast."
Despite some complications after the donation process – including a heart attack and triple bypass for his mother, and a post-operative infection for Cary – the kidney donation was a success.
Cary's generosity didn't stop there. Seeing a need for Hispanics to obtain information about organ donation, Cary and his mother became mentors for the National Kidney Foundation. Mentors speak with potential donors and recipients about the process of organ donation, from the procedure itself to what it feels like in the body to give or receive a kidney. He felt especially helpful to be a resource to other Hispanics in navigating the family dynamics surrounding kidney donation. "I explain it as an honor to do, not something that you have to do."
The doctors predicted 15 to 17 years of additional life for his mother with new kidney. Now 73 years old, his mother is still doing well – and Cary is now 50, the age his mother was when she got the donation.
"I feel blessed to have given life to my mother, for the life she gave me. Our kids were able to grow up with a grandmother. Priceless!"
"You create a bond that's unlike any other."
"It's a horrible thing," Pam says of polycystic kidney disease (PKD). She's seen its devastating impact on her husband's family. In addition to her husband, three other siblings suffer from PKD – and they've lost other family members to the disease, too.
PKD is an inherited disorder in which cysts grow on the kidneys, causing reduced function and leading to kidney failure. Patients with PKD monitor their lab results closely, keeping an eye out for signs that could indicate worsening of the kidneys. Pam and her husband watched his numbers closely, with checkups every six months, then every three months.
One day, while they were in for a routine appointment, "his numbers drastically dropped." That 45-minute appointment turned into an all-day affair. Her husband's healthcare provider recommended starting dialysis. They also asked if Pam and her husband knew anyone who could be a kidney donor.
Pam turned out to be a match for her husband, not just for love and marriage, but for kidney donation – a match for life, you might say.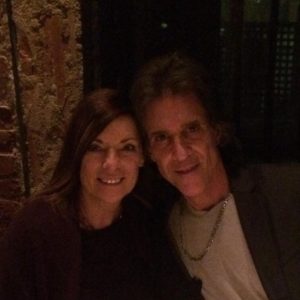 When she first volunteered, though, she was warned that it would be unlikely that she could be the direct match for her husband. If not, she hoped she could participate in a swap – an exchange in which a donor gives their kidney to an unknown or unrelated recipient, in exchange for their loved one receiving a kidney from another person who is a match.
Things fell into place quickly for Pam and her husband. "We acted fast enough that we were able to avoid dialysis altogether." She speaks highly of the team at Massachusetts General who managed the donation process – from educating Pam and her husband about what to expect, to helping them with nutritional planning in the weeks leading up to the procedure.
She recalls the procedure date as easily as she recalls her wedding day. "March 28, 2013 – it's a date etched in our minds forever and ever."
They came home on Easter morning, just a few days after the procedure. Eight weeks later, her husband, a musician, played a show, and two weeks after that, they both participated in a 5K run/walk fundraiser for PKD.
The experience of giving and receiving the kidney has brought Pam and her husband even closer. "He's my best friend in the entire world. You create a bond that's unlike any other."
Pam is grateful to all those who put themselves on an organ donor list, and provides her personal perspective on what it's like to be a living organ donor. "In this case, when you are a living donor, it really is a life. There's nothing better than to see the results of what you've given – to see a person turn from some medical situation and be able to enjoy life again."
"My heart was touched and I had an understanding of how dire the need was."
It's easy to understand the motivation for someone donating to a family member or friend. Yet there are also donors who give to a stranger out of the goodness of their heart – or rather, kidney.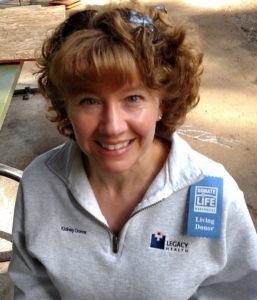 Stephanie, a fitness instructor in Oregon, had formerly thought that kidney donors needed to be related to the person in need. When she saw an article about a person from her home state on the transplant list, she learned that anyone can be tested to see if they are a match. She sent a blood sample, but learned that she was not a match for that patient.
That ignited something, though. "Four days later, I found myself constantly thinking about it."
She started doing more research about kidney disease. "I learned a bit more about dialysis and how it's not as good an option as transplant if one wants to live a full, healthy life."
Stephanie considered the pros and cons of donating and the decision was clear. "[I thought], I can't not do this. I can't in good conscience teach my classes and ignore someone in need."
She started looking in her local area for people in need of a kidney transplant. She found a public Facebook page about Scott, a patient with kidney disease, and the hospital where he hoped to receive a transplant if a matching donor could be found.
Without introducing herself to Scott or telling him anything about it, Stephanie quietly began a series of medical tests to prepare for the donation. "Every week, I had at least two appointments lined up," she recalls. In addition to blood tests, a physician visit, electrocardiogram, and X-rays, she also underwent other preventive care including a colonoscopy and mammogram.
Two months after starting the process, Stephanie learned that she was a match. She still didn't know Scott personally, and was eager to connect. Wondering if the hospital had notified the patient of their compatibility, she sent a message to him via Facebook. Scott messaged her back from his dialysis session and they met over the phone; later, she met him in person at one of his last dialysis sessions.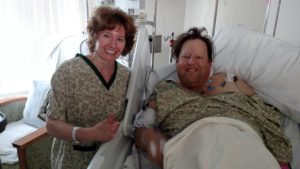 Scott's friends and family were relieved. "It makes you realize how many are affected – not just the person getting the kidney," says Stephanie. "Family, coworkers, neighbors – it gave them peace of mind."
In the 48 hours before the surgery, Stephanie was excited – and careful to stay germ-free. "I felt like I was carrying gold bullion inside me – or a map to a treasure." And while she was assured by the transplant hospital that she could back out of the donation at any time up until anesthesia, she "never had any doubts or fears."
Stephanie was able to visit Scott the day after the transplant. "The change in the color of his face meant that the kidney started working right away." Scott was pleased that Stephanie was doing well after the procedure as well: "He was glad to see that I was walking around."
For those considering becoming a living organ donor, Stephanie recommends thinking about the situation of the person in dialysis. "Think what life would be like, and how hard it would be to ask others to donate."
No Regrets
Giving a kidney was a life-changing moment – literally, for the recipient, and emotionally, for the donors. Every single one of them wouldn't change a thing.
"I am just so passionate about it!" – Melissa
"It was the most amazing experience in my life." – Pam
"It's a passion and I feel so proud." – Cary
"I never had a moment of doubt. It's such an amazing experience." – Stephanie
Thinking about becoming a living organ donor? Check out the American Kidney Fund, the National Kidney Foundation, or the PKD Foundation. They can connect you with information and resources so you can become better educated about living organ donation and kidney disease. Whether you become a donor yourself or raise awareness of the need, you can make a difference for people with kidney disease.
Have you received or donated an organ to someone? Sign up to share your experiences!
Comments
comments