I'm a podcast geek.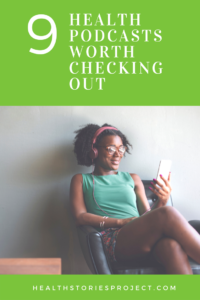 For me, the cool thing about podcasts is that you can hear interesting stories, and learn something new, all while doing something totally mundane. I can learn about coffee while I'm grocery shopping, meditation while I'm doing the dishes or even historical factoids while I'm walking my dog. What's not to love?
Plus, it's really fun to share new podcast discoveries with my friends. So, this week I wanted to put together a list of some of my favorite podcasts featuring health-related topics. From ALS to Bipolar II and HIV, these 9 podcasts are worth a listen:
Health Topic: Clinical Depression
Clinical depression is no joke, but sometimes humor is what heals us. With his podcast, John Moe strives to understand the connection between comedy and despair by interviewing comedians about their experiences with sadness.
Start with: Maria Bamford Talks Bipolar II While Her Pugs Eat Nilla Wafers
My son sent me this I think it is a cry for help? pic.twitter.com/h1NdWpKlkZ

— John Moe (@johnmoe) February 15, 2017
Health Topic: ALS — Amyotrophic Lateral Sclerosis (Lou Gehrig's Disease)
When he was first diagnosed with ALS in 2010, Bruce Kramer, the dean of the School of Education at the University of St. Thomas, decided to share his story with MPR morning news. The result is a touching look into life with an incurable disease. Bruce passed away in March of 2015, but the podcast episodes remain as a legacy to his life as an educator.
Start with: MPR News' Cathy Wurzer remembers Bruce Kramer
Health Topic: Unusual Medical History
Why would a person eat dirt? How much was health care in the 1900's? Why is Curtis Howe Springer known as the King of Quacks? The hosts of Sawbones strive to answer odd questions and uncover gross, wrong, and just plain weird events in medical history. If you're a fan of Stuff You Missed in History Class, you might just love Sawbones.
Start with: Health Insurance
This week on @Sawbones: Immigration medicine https://t.co/XpkJvEy0I0 Thanks for RTing! pic.twitter.com/u3emCAnLK5

— Sawbones (@Sawbones) February 3, 2017
Health Topic: Pain (all kinds)
You know when someone asks, "how are you?" and you just want to respond, "terrible," but you don't? People with chronic conditions experience this a lot and Terrible, Thanks for Asking is about this phenomenon. It's a funny and poignant podcast that advocates talking honestly about our pain.
Start with: Help Me Remember
[tweet_box design="default"]From ALS to Bipolar II and HIV, these 9 health podcasts are worth a listen. #trypod[/tweet_box]
Health Topic: Colon cancer
Jesse Case was diagnosed with Stage IV colon cancer in 2015 and he's podcasting his way through treatment. Jesse is a comedian, and this podcast covers the stuff that's on his mind including his experiences with the gross, weird, and scary side of cancer. Be warned, this podcast isn't for kids. Jesse swears and can get pretty graphic with his descriptions.
Start with: Bioethics and Other Big Words
Health Topic: All types!
TED is known for hosting groundbreaking conversations by thought leaders and innovators around the world. The TEDTalks Health podcast is exactly what you'd expect. These short (usually 10-15 min), informative talks cover all sorts of health topics like mental illness, vaccines, pooping and more.
Start with: Joshua Smith: New Nanotech to detect cancer early
Health Topic: Mental illness, trauma, addiction and negative thinking.
Host Paul Gilmartin is getting real about mental illness and he's doing it with the help of comedians, friends, artists, and the occasional doctor. Each episode explores the reality of mental illness and, according to Psychology Today, "normalizes what so many others feel but have been too fearful or ashamed to express."
Start with: I Was Born Afraid – Jenny Jaffee
Health Topic: HIV/AIDS
The Body is on a mission to provide more information about HIV/AIDS and its treatment. Their podcast is a collection of audio interviews with HIV patients, doctors, researchers and more.
Start with: This Positive Life: An Interview With Gary
Health Topic : Various
Every body has a story. That's the Only Human mantra. This podcast tackles uncomfortable topics, experiments with possible health solutions, and tells stories we can all relate to.
Start With: The Robot Vacuum Ate My Pancreas
Mother's Day Love: @marysdesk talks about having a baby + fighting cancer: https://t.co/2d8LiR7Bq0 #mothersday2016 pic.twitter.com/0c8GlQwswv

— Only Human WNYC (@onlyhuman) May 8, 2016
Episodes that Deserve an Honorable Mention
Some podcast don't focus specifically on health topics, but they've produced really interesting stories that you shouldn't miss. If you're not ready to commit to an entire podcast, check out some of these episodes:
What does a woman in a wheelchair have in common with a world-class athlete? This American Life tells the story of Jill Viles, a woman with muscular dystrophy who believes that she has same condition as one of the best hurdlers in the world, Priscilla Lopes-Schliep in Something Only I Can See.
Patient Zero tells the fascinating story of typhoid Mary and traces the history of the HIV/AIDS virus back to its roots. (Radiolab)
Did I miss your favorite? Let me know.
Comments
comments