Matthew Holland is the picture of health. He's tall, handsome, and in great physical shape. He's the type of guy who seeks out physical challenges with gusto, spending his summer vacations on a mountain bike or wakeboard and eagerly trying new snowboarding challenges in the winter.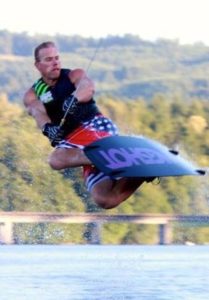 Naturally, his work involves fitness too. Most days you can find Matt working as a personal trainer in Seattle, Washington striving to help others get in shape. Many of his clients would do anything to look the way Matt does!
But behind his musclebound exterior, Matt is tackling Crohn's disease, a challenging, chronic, autoimmune condition. He credits his condition for putting him on his dream career path and for teaching him that health always trumps appearance.
Diagnosed and dealing with it.
Matt strives to make living a healthy life with Crohn's a top priority and that goal permeates everything he does. Like many Crohn's patients, he started experiencing symptoms before he really knew what it was. He first noticed painful stomach issues in his late teens which continued until he was 27. "That's when I really got hit with it," Matt muses. "I was in the hospital and having surgery to take out my colon within four to five days of my symptoms. I was losing a lot of blood and in such agonizing pain that my situation turned critical and they had to go in right away to take out my colon."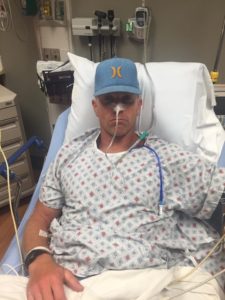 At first, doctors thought Matt might have ulcerative colitis (or colitis for short). Crohn's and colitis are both inflammatory bowel diseases with similar symptoms. Both are chronic, which means they rarely go away. Fortunately, they can often be treated with diet, medication, and sometimes surgery. Crohn's causes inflammation anywhere along the entire gastrointestinal tract, leading to ulcerations in the small and large intestines. Colitis is similar, but limited to inflammation of the colon and rectum. Crohn's and colitis patients both experience severe abdominal pain, diarrhea, and fatigue, as well as emotional distress that stems from these problems including social anxiety and depression.
In other words, Crohn's and colitis really, really suck. For many, Crohn's causes physical and mental discomfort on a daily basis. Sadly, this was true for Matt for nearly 10 years.
After his initial surgery Matt's whole life began to take a dramatic turn. He had to endure 11 more surgeries in the span of two years and spent an enormous amount of time in and out of the hospital. "They took out my whole colon and part of my small intestine," Matt recalls. "I had the colostomy bag on and off four times due to complications. It wasn't until years later, after a multitude of tests and ongoing issues, that they figured out it was Crohn's."
Matt's personal life started to suffer. He lost a job that he had previously held for eight years because of continuous medical absences and he had to drop out of school. The weight of diagnosis, surgery, and missed opportunities hit Matt like a 50-pound kettlebell. "I was worried I couldn't do personal training or the physical things I wanted to do. It was pretty hard initially," Matt remembers.
Down but not out.
Luckily, Matt doesn't sit still for long. "Although this disease tries to put a strain on my life, I refuse to let it control me and stop me from doing the things I love in life. That's always been my mentality."
Having support at home helped Matt get through some truly terrible times. He was diagnosed with Crohn's a month prior to tying the knot. Fortunately, his new wife Suzanne really took in sickness and in health to heart and helped Matt through some seriously awful and embarrassing personal experiences. He gushes, "It made our relationship a lot stronger. She was so awesome and took care of me like no one could. As embarrassing as everything was, she was there for me."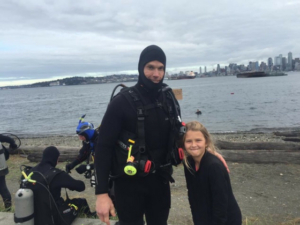 With the help and support of his wife, Matt started seeking new treatment options. At first, his doctor had him on several prescription medications and, as Matt says, "The doctor basically gave me a website and said, 'Here you go.' He acted like that was all I needed. I ended up having to do all of the research myself." Matt knew he needed more information, so he joined a support group through the hospital. "I learned more there than anywhere else. Hearing what everyone else was doing helped."
The support group encouraged Matt to look into changing his diet. "They made me realize how important diet can be, and how different it is for everyone," Matt remembers. "The list of foods that can be problematic when you have Crohn's is huge and the trick is figuring out which ones affect you negatively."
From there, Matt began a process of fine tuning: listening to his body as well as adding and removing foods as they affected him. He noticed small improvements but the biggest change happened when he enlisted the help of a naturopath after a hospital visit. "She made me realize how long it can take to get certain foods out of your system and convinced me to cut gluten for a good two months. I noticed a significant difference after finally giving my body the time it needed to heal."
Matt also continued to pursue his active lifestyle once again, despite having an ostomy bag. For some adventures, this was more challenging than others. Things like scuba diving and mountain climbing presented unique obstacles, but Matt kept his mind open to new challenges. He also discovered a passion for home workouts and invested in-home gym equipment so that he could work on his fitness from home.
Additionally, he recalls falling on a snowboarding trip and having the bag burst open.
"It was nasty," Matt laughs, "but I don't like to be held back or told I can't do something because of my condition."
What we can learn about vanity from a personal trainer.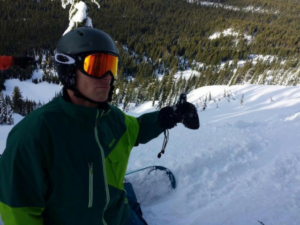 Matt is a personal trainer who truly stands by his word when he says health should come first. In a recent Instagram post, Matt wrote: "I stay in shape for many reasons, but to be able to bounce back from [Crohn's] is number one. There's so much superficial BS that clouds the real reasons why we want be in shape and drop those 30 pounds, but in the grand scheme of things it's about your health."
Matt's advice for people living with Crohn's:
Listen to your body and know what works for you.
"It blows my doctors' minds when I recover quickly but I know being active and getting my body moving again helps the rest of my body regulate itself. It sure helped doing laps in the hospital to get my stomach to wake back up, and believe me it's the last thing I wanted to do with an NG tube hanging out of my nose, but I forced myself to do it."
Be your own advocate and get involved.
"Get involved with some sort of support group. I'm a member of one online. Talking with other people who have it too can convince you to try treatment options that you otherwise would be too stubborn to try. Hearing advice from another person really helped me out. "
Live life to the fullest.
"When you first find out you have Crohn's you assume you can't live a normal life. Find out what other people have done to help with their disease. Don't settle for anything less than what you want to do."
Remember there is hope.
"There is always a way out. There are always things you can do to help yourself feel better. A lot of the things you think you can't control you actually can."
Share your story.
"People look at me and assume everything comes easy. They don't understand the big things I've had to do to overcome [my obstacles]. I'll share parts of my story because if I can overcome all the crap that comes with Crohn's, you can overcome your struggle too."
Have you been affected by Crohn's, colitis, or another health condition? Sign up to share your experiences with Health Stories Project!
Comments
comments