Nothing about breast cancer is easy. And for a lot of women, one of the hardest things about breast cancer is mastectomy. In theory, you think you might know what to expect; maybe you've even seen post-surgical photos of other survivors. But your body, which you know better than anyone, will be different in a big way. It can be a shock.
After the scars
"After the scars had physically healed, I looked at the mirror for the first time in five months," says Corey, one of the Health Stories Project community members who reached out about their post-mastectomy experiences. "I cried my eyes out."
Scars are inevitable, whether a woman has reconstruction surgery at the same time as her mastectomy or she waits until she's healed enough or kicked cancer to the curb. Some women decide not to have any kind of reconstruction. No matter what the situation, discomfort-and not just the physical kind-is a common theme of the post-surgical experience.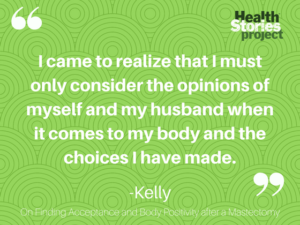 "It was very uncomfortable when I returned to work," says Corey, who has an expander and is awaiting reconstruction. "My coworkers knew I'd had a mastectomy on one breast and I felt like they were staring at me trying to figure it out. I had to stuff the breast with a small washcloth to even it out."
"It's awkward," says Kitt, who could not have reconstruction at the time of her surgery because she was pregnant. "I wear a prosthetic when I have clothes on but I feel like my body is between states-not whole, not reconstructed, not symmetrical."
Her six-year-old son knows she has a "fake breast." He recently asked her why she was trying to fool people. "That stopped me in my tracks," she says. Sometimes she forgets she's even wearing a prosthetic. "With my clothes on, that is. Off is another story."
"It was hard to feel comfortable in the beginning," says Kelly, who hasn't had a reconstruction for personal and medical reasons. "But I have now accepted my new body and 99% of the time remain flat, without a prosthetic."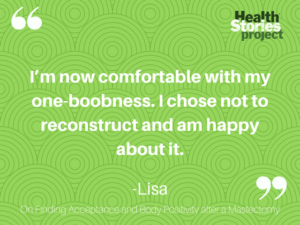 Right after surgery, though, was a different story. She still had short hair from chemo and wasn't wearing her prosthetic when she went to her physical therapy appointments. "One day a woman there stared at me with a puzzled and disgusted look. She was relentless in her staring and it made me terribly uncomfortable. I went to the ladies room and cried."
"I have much more confidence now," says Kelly. "I came to realize that I must only consider the opinions of myself and my husband when it comes to my body and the choices I have made."
"I'm now comfortable with my one-boobness," says Lisa Vento Nielsen, who tells "true tales of the bald and the boobless" on her blog The Time Between Is. "I chose not to reconstruct and am happy about it, though I only have one boob so I am lopsided." Many people do choose to reconstruct after such surgeries, especially after hearing about the benefits of breast augmentation surgery by Dr. Hyman. Still, there is nothing wrong with choosing to remain without.
It's a small price to pay, says Nielsen. "I'd rather be alive than have boobs. Any day of the week."
Body art and healing
Nielsen has a future plan for her new body. "I want to get a real tattoo once I'm more healed," she says. "I love the idea of a temporary one to figure out where I will get it and what it will be."
Search Pinterest for "mastectomy tattoos" and you'll find examples of the realistic nipple tattoos many women opt for after reconstruction. But you'll also find endless examples of stunning and often elaborate body art covering-or perhaps enhancing is a better word-the scars left by a mastectomy.
"I'd like to get a pink ribbon entwined with the word ohana," says Corey, referring to the Hawaiian term for family. "I have accepted that I have cancer and the truth is, it sucks, but I'm grateful to be alive and I have family and friends who've been a great support."
"I'd get a breast cancer warrior," says Kitt, who has an affinity for Japanese culture and aesthetics. "A true female ninja with a traditional Japanese floral. Maybe some cherry blossoms or a vine to cover the scars."
Getting inked is permanent, of course, though there are temporary options out there. Still, for many women, forever tattoos are an empowering way to honor their bodies, which are different now but have survived so much.
"I got a real tattoo," says Lisa. "I wish I could show you how amazing it is. All I can say is that the tattoo has made looking in the mirror not only bearable, but pleasurable."
Have you experienced breast cancer, a mastectomy, or another health condition? Sign up to share your experiences with Health Stories Project!
Comments
comments