Cancer can be a dramatically life-altering experience for the people who are fighting it and for those who care for them. The disease takes on countless forms, some with less hopeful outcomes than others, and it affects every individual differently. We asked the Health Stories Project community about their personal experiences with cancer — particularly the hardest parts — and they didn't sugarcoat it. It's challenging sometimes in ways they couldn't anticipate.
Cancer takes its toll physically and mentally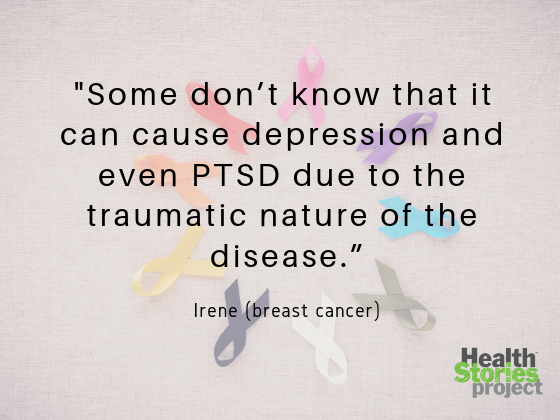 "Nobody prepared me or those around me for the additional issues that can arise during cancer treatment. While poison [from treatments] is killing the cancer, it also affects any existing health issues you already have and can create new ones." — Marty (breast cancer)
"It is difficult to deal with the fatigue every day and how limiting it is on what you can do at work, at home (especially with children), and socially. Finding time for all the appointments as well as everyday life is tiring. It's a challenge to balance everything while trying to heal." — Anonymous (melanoma)
"We're all affected in different ways, but some don't know that it can cause depression and even PTSD due to the traumatic nature of the disease." — Irene (breast cancer)
It can be very lonely sometimes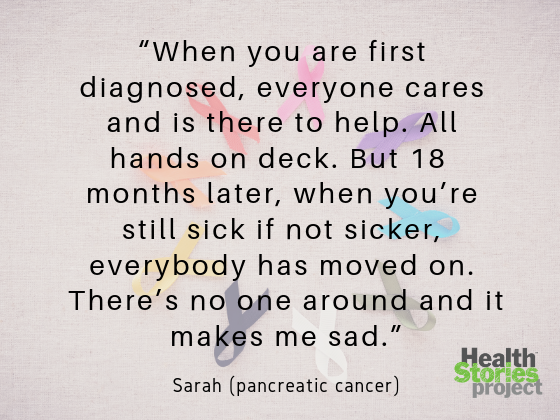 "When you are first diagnosed, everyone cares and is there to help. All hands on deck. But 18  months later, when you're still sick if not sicker, everybody has moved on. There's no one around and it makes me sad." — Sarah (pancreatic cancer)
"It's an internal battle to keep pushing during the minutes you feel you can't. I'm unable to explain to other people that even on good days, I have those minutes. No matter how much love and support you have, cancer is your own battle and those minutes can be scary." — Heather (breast cancer)
"There's a loneliness in not doing everyday things. Running out to doctor's appointments all the time is not the same as going out to eat or drink and it's sad and lonely." — Anonymous (carcinoma and thyroid cancers)
"I have lots of aches and pains that nobody knows about. Sometimes I feel alone, as though nobody understands." — Kristina (breast cancer)
People make a lot of assumptions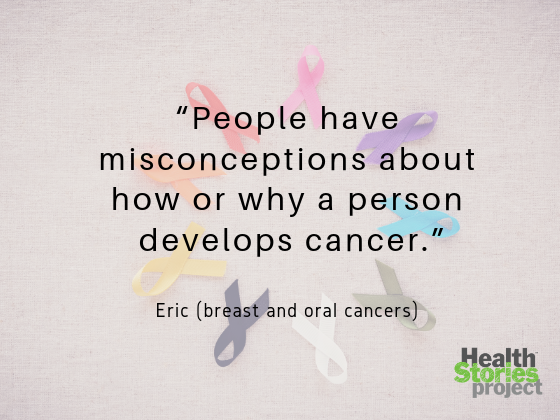 "I wish people knew the fear that came with having cancer. I don't always want to talk about it, so when I dismiss your questions and change the subject, let me escape into the friendship for a little while. And please don't tell me I 'look so good.' Sometimes the ruddy look comes from pain or drugs." — Anonymous (breast, liver, lung, and ovarian cancers)
"People have misconceptions about how or why a person develops cancer. I've had it twice. There's a deep sense that people don't really know what you are dealing with physically and emotionally. They see someone who's 'beat cancer,' but don't see the toil and pain and exhaustion we're still dealing with." — Eric (breast and oral cancers)
"I have heart and lung damage from high-dose chemo during bone marrow transplant. It limits my mobility so I use scooters to shop for groceries, but I'm overweight and people assume I'm 'fat and lazy.' I've seen them laughing and want to scream, 'I've had cancer and I'm not lazy!'" — Jan (Jak2 positive primary myelofibrosis)
Nobody knows exactly what you're going through but you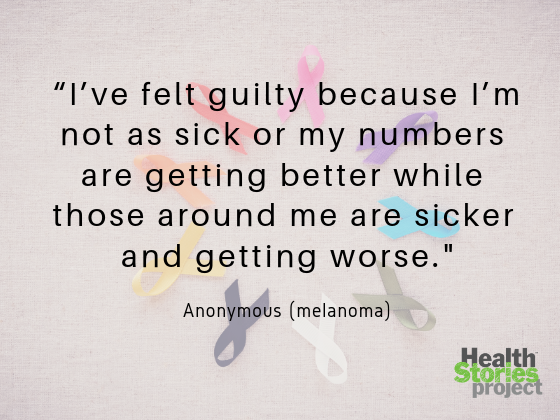 "Cancer, no matter how insignificant it may seem to others, changes your life and how you approach life forever." — Anonymous (prostate cancer)
"I've experienced ongoing emotional turmoil, lost wages, financial insecurity, body changes and deformities, and scars." — Carla (melanoma)
"Chemo brain is real! It's so frustrating to not be able to remember conversations and words. The 2am panic attacks are also terrible. The racing heart, inability to breathe, and uncertainty of your future make it impossible to get a good night's sleep." — Wendy (breast cancer)
"I've felt guilty because I'm not as sick or my numbers are getting better while those around me are sicker and getting worse." — Anonymous (melanoma)
Grappling with death is deeply personal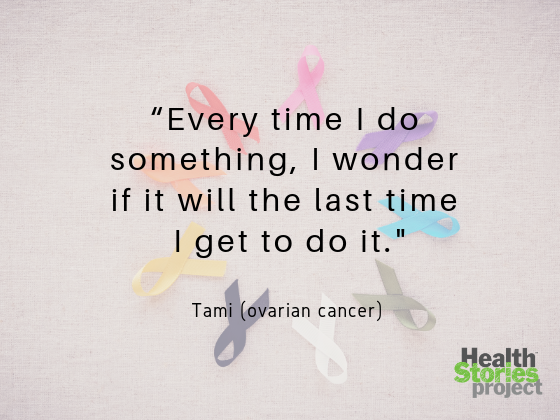 "Every time I do something, I wonder if it will the last time I get to do it. I go to a convention every year with my son and the entire weekend I wondered if it would be the last one I would be alive to attend." — Tami (ovarian cancer)
"I think a lot about when I'm going to die. I was never a good sleeper but now with cancer each night is a struggle because I'm afraid to go to sleep. There aren't enough distractions to keep my mind occupied so I don't think about the final end." — Frank (prostate cancer)
Life after NED (no evidence of disease) has challenges too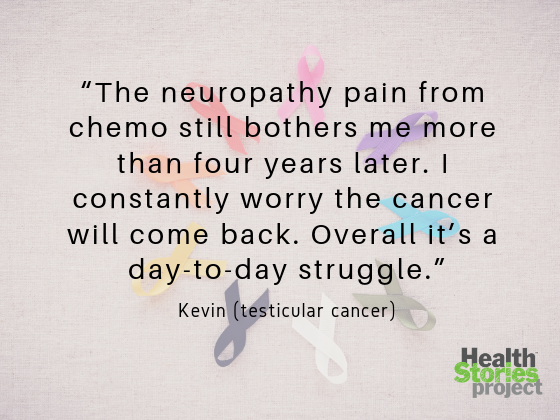 "I'll worry for the rest of my life that it will come back with a vengeance. Every ache and pain gets my mind going back to a doctor telling me that I have cancer again." — Anita (breast cancer)
"I've had melanoma twice. One thing I deal with daily is the unknown. Will it come back? Will this freckle or mole turn into melanoma? Will this biopsy be positive? Did I put on enough sunscreen?" — Ken (melanoma)
"The neuropathy pain from chemo still bothers me more than four years later. I constantly worry the cancer will come back. Overall it's a day-to-day struggle."  — Kevin (testicular cancer)
Join Us
Are you or someone you care for living with cancer or another health condition ? Sign up to share your experiences with others.
Latest Posts
Comments
comments