When it comes to your health, two wheels are better than four! There are countless great reasons to get on a bike and start pedaling for your health. To name a few:
Biking can be easier on your ankles, knees and feet than running.
It benefits your cardiovascular system.
Biking outside is a great way to get much needed cardio without spending time inside a stuffy gym.
It burns more calories than walking (281 versus 176 per hour) – that's more reward for the same effort!
It can reduce stress, boost your brain power, and help ward off depression.
Plus, you can do it for your favorite health-related charities including Get Your Guts in Gear (for Crohn's and Colitis), AIDS Lifecycle, Tour de Cure (Diabetes), Bike MS, and more.
If you've ever wanted to get into biking, but didn't know where to begin, National Bike Week (May 16-20, 2016) is the perfect time to try. Getting started is not as daunting or challenging as it seems (trust me!). In fact, there are really only 5 things you NEED to do to get started.
[tweet_box design="default"]If you've ever wanted to get into biking, but didn't know where to begin, #NationalBikeWeek is the perfect time to start.[/tweet_box]
1. Get a Bike.
If you don't already have a bike lying around this is perhaps the most time consuming and potentially overwhelming step you'll need to take. Luckily, once you find the right bike the rest is downhill (metaphorically speaking, of course).
Before you head to the bike shop, consider these questions:
Where do you want to ride (on the road or on trails)?
How far and fast do you want to go?
What are your goals for riding?
Will you be a fair weather rider or will you need fenders and traction for inclement weather?
Do you want to be able to carry anything?
What position(s) are you most comfortable sitting in?
Keep in mind that your answers to the above questions may change over time so stay open to change and don't be afraid to take advice. Once you have a sense of what you're looking for, visit a few bike shops or bike fairs so you can talk to real experts and do some road tests.
2. Inspect Your Bike For Safety.
Next, it's important you know how to give your bike a proper safety inspection. Cascade Bicycle Club of Seattle, WA calls this the ABC Quick Check and it's really simple. Most of these pertain to proper bike maintenance, but rust and damage to your bike can be avoided by storing your bike properly. If you are planning to make cycling a long term hobby, it might be worth looking into custom sheds in which to store your bicycle. Before heading out on the open road, do an ABC Quick Check:
A is for Air – Ensure your tires are properly inflated. If you're not sure what the air pressure should be, check the sidewall of your bike's tire. It should be written there. This is also a good time to check the condition of your tires in general.
B is for Brakes – Brakes are crucial to bike safety! You want to make sure your bike will stop when you need it. Check both your brake pads (are they worn?) and your brake levers (they should work smoothly and snap into place when released).
C is for Chain – Chains can be intimidating for those who don't understand bike mechanics, but they're really not that complicated! Check to make sure your chain turns freely, and that it's not kinked or overly rusty.
Quick is for Quick Releases – You should also know if your bike has quick releases and where they are (usually on the wheels, brakes, and seat). Check to make sure all quick releases are properly secured.
Check is for check it over!
3. Know How to Ride Safely.
Before you get out on the open road you should also know the basics of riding. These include:
Traffic laws as they apply to bicyclists in your area. In some areas bikes must stay on roads, in others they can only use sidewalks, and some allow mixed use. It's important you know where you're allowed to ride and how that will dictate your riding style.
You may think wearing a helmet is enough to protect your head, but there is more to proper helmet fit than small, medium, and large:

You should be able to see! Make sure your helmet is low on your forehead (a finger or two above your eyebrows).
The side buckles of your helmet should be positioned just below your earlobes.
The chin strap should be tight enough that you will feel the helmet pulling down on your head if you open your mouth.

You should also know and practice practical riding skills like lane positioning, braking techniques, and crash avoidance techniques. Check your local parks and rec and/or bike organizations for any classes that might be offered on these skills. They're essential to have in your back pocket.
4. Pick a Route.
If it's been awhile since your last ride it may be a good idea to find some safe routes to practice on. Yes, it's true that one never forgets how to ride a bike, but that doesn't mean you don't get rusty!
The good news here is that there are lots of free bike trail resources and route planning guides out there. Use these to find safe trails and roads that other bikers use. Here are a few resources I like:
5. Find Some Support.
If you're thinking of participating in National Bike Week or Bike to Work Day, find some support (or a group to ride with!). Ask around the office. Is anyone else planning some rides you could join? Do you have any friends that bike who could show you the ropes? Does your community have a bike club you can join? Don't be afraid to ask around and put yourself out there a little. The effort you put in will pay back in spades.
6. Have Fun!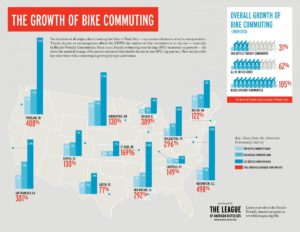 Last, but not least, have fun with it! As John F. Kennedy once said, "Nothing compares to the simple pleasure of a bike ride." Now is your time to rediscover the joy of the open road and wind whipping through your hair… so what are you waiting for?
According to the National Household Travel Survey, the number of trips made by bicycle in the U.S. has more than doubled from 1.7 billion in 2001 to 4 billion in 2009. That's a lot of pedaling! BikeLeague.org says this jump in ridership due, in no small part, to encouragement efforts like National Bike Week and Bike to Work day.
The best thing about this jump in ridership is that almost everywhere you go in the U.S. there are better places to bike now than there were before. The number of bike paths on roads have increased considerably, and some are even saying that bicycling is experiencing a renaissance.
Will you be participating in National Bike Week or Bike to Work Day this year?
Comments
comments