Memorial Day is a time many families use to visit memorials and to honor those who have died in military service. It's also a time for people to get together and celebrate the impending summer with the time-honored tradition of grilling in the back yard, at the park or on the patio.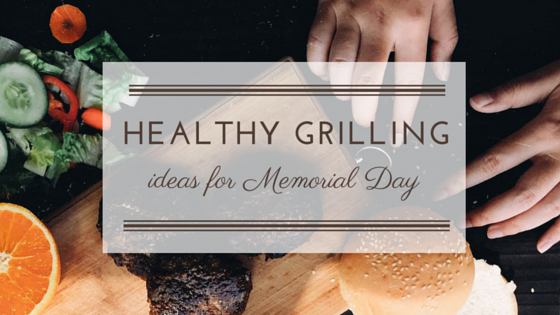 By making smart food choices on Memorial Day (and every day) you can honor and help protect your family from health problems like heart disease, hypertension (high blood pressure), type 2 diabetes, osteoporosis, and certain types of cancer. So, why not celebrate with some healthy (and yummy!) dinner options the whole family will love?
We've compiled a list of healthy grilling ideas to get your started – or check out our Pinterest board:
Healthy Snacks for Fun in the Sun
What's a party without something yummy to munch on? According to the Mayo Clinic healthy snacks can "help manage hunger and reduce bingeing at mealtime. The key is to eat healthy snacks that satisfy your hunger and keep the calorie count low."
Here are some quick, easy, and healthy snack ideas:
Grilling Veggies
You don't need us to tell you that people who eat more vegetables are likely to have a reduced risk of some chronic diseases, and that vegetables provide vital nutrients for your body. We will say that vegetables don't have to be yucky, boiled, and boring. If you have trouble getting in enough servings of vegetables, try grilling them! Grilling adds flavor and character to otherwise lackluster dishes. You could even add some extra flavour by purchasing some flavoured firewood from Cutting Edge Firewood, so why not click here for the official site.
Grilling Healthy Burgers and Dogs
On to the main course! When choosing healthy proteins to serve to your family try picking lean or low-fat meat and poultry. Seafood is also an excellent choice – especially for grilling – and if your family prefers processed meats (like sausage and hotdogs) try to choose options with reduced sodium.
These Chicken Avocado Burgers from Laughing Spatula are making the Paleo/Whole 30 rounds and they are good eating.
Grilled turkey burgers do NOT have to be bland. If you're a fan of onions and garlic, you're in luck. Use Real Butter has a turkey burger recipe that is far from ordinary! Serve it on a potato roll bun and dress it up any way you like, or if you're gluten intolerant, you might try Muscle and Fitnesses "Naked" Turkey Burgers with Grilled Red Potatoes.
If you're not a hamburger fan, don't worry! Whole Foods has some creative hot dog topping combinations including Saturday in the Park (a blend of tomato, onion and steak sauce) and Softball Supper (Green chiles + corn + red onion) – yum!
[tweet_box design="default"]Recipe Roundup: Healthy grilling ideas[/tweet_box]
Sweet Treats
Last, but clearly the best part of any meal, your family doesn't need to skip dessert to stay healthy! Many experts say that eating desserts mindfully and fully savoring them can help reduce cravings and feelings of deprivation that plague many dieters and healthy eaters. The key is to choose low calorie, low sugar treats that still leave you satisfied.
Here are a few ideas to try:
How does the first frozen treat of the summer sound? Nom Nom Paleo's Lava Flow Ice Pops require a blender/food processor and Popsicle molds, but they're worth the extra effort.
These S'mores are only 80 calories a piece! Do I really need to say more?
I've made these Primal Palate Chocolate Chip Cookies countless times. They're made with whole ingredients (maple syrup, eggs, almond flour) and you'd never know they don't have any refined sugar.
Whether you're throwing a party in the backyard or taking a dish to a potluck, celebrating the holiday with something healthy doesn't have to be a chore. Plus, eating well can help enhance your mood, regulate your weight, increase your health and help you live a longer, fuller life!
What healthy recipes will you be using to kick off summer this Memorial Day Weekend? Share them!
Comments
comments