*Editors note: In this story, Alisiene describes treatments that worked for her. If you or a loved one are living with endometriosis, please consult a physician before trying any new treatment or therapy.
Alisiene Schall had always been known for her convivial personality. Effortlessly outgoing with just about anybody and unable to sit still for long, she had lots of friends and loved going out, whether to a casual dinner party or a late-night concert. Then the pain and fatigue she always felt around her menstrual cycle started to get worse and last longer. She found herself regularly calling in sick to work and canceling plans with friends last-minute. She felt awful more often than not. Finally, 13 years ago, she had a laparoscopy that revealed what was wreaking havoc on her body and social life: advanced-stage endometriosis.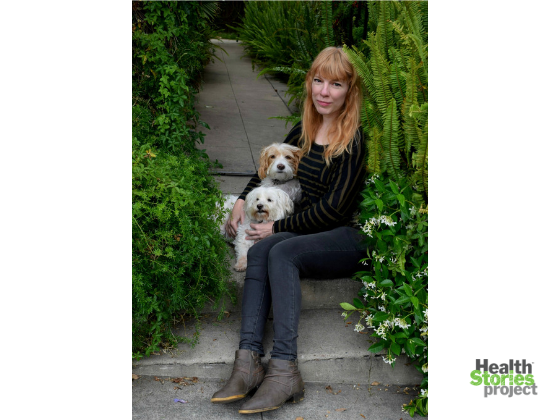 Endometriosis occurs when the endometrial cells that line the uterus spread beyond their natural territory, typically to the other parts of the reproductive system such as the ovaries, fallopian tubes and pelvic tissue. The abnormal growths can cause scar tissue and adhesions that bind the tissues and organs together. Symptoms often include severe period pain and bleeding, discomfort during intercourse, and infertility. Some women have few noticeable symptoms and are only diagnosed when they're otherwise healthy and can't get pregnant.
"My life changed drastically at that point"
In addition to undergoing medical treatments, including three surgeries to excise overgrown endometrial tissue, she did a lot of research and made significant lifestyle changes.*
For starters, she gave up her daily glass or two of wine. "I was self-medicating to treat the pain," she says. "But it wasn't helping. Wine causes a lot of inflammation so it's the exact opposite of what [I wanted] to do. I tried to cut out anything inflammatory like fried foods. That's hard because I crave comfort foods when I'm PMSing but it's not what [my] body needs."
Schall also upped her water intake and started a supplement regimen that includes Omega-3, a daily multivitamin, vitamin D, valerian root to help her sleep, and collagen peptides, which some believe have anti-inflammatory properties.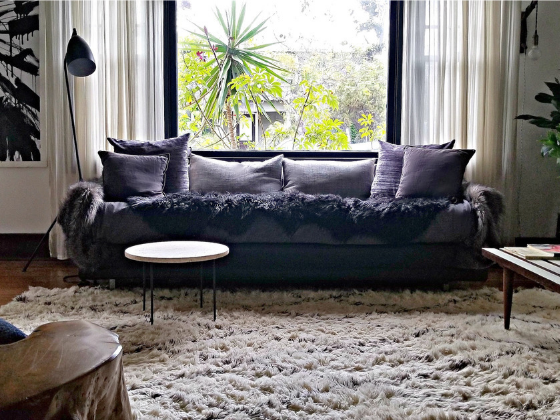 As she took actions to get her endometriosis under control, she spent a lot of time holed up in her apartment, rarely going out, which affected her friendships. She downsized her social life to include a handful of good friends who really understood what she was going through. It was hard at first. She was not a natural homebody. But then something unexpected happened.
"Being forced to stay at home helped me realize I could be creative in a way I hadn't even imagined was possible."
Schall had always been obsessed with interior design, reading stacks of shelter magazines and pouring over blogs and Pinterest. "[Being stuck at home] helped me understand that the design of your home has such a connection to your physical, mental and emotional well-being," she explains.
The first thing she did was pare down. "When you're not feeling well, one thing that can be daunting is trying to keep your space clean and tidy. It's hard to find the energy. When you have fewer things around, you have less to worry about cleaning."
She didn't get rid of everything, of course. She made the space calmer, opting for a neutral, monochromatic color palette. With the help of some peel and stick wallpaper for ease and some neutral paint, the walls were transformed into a calm and comfortable haven. She focused on showcasing her furniture – mid-century pieces she had collected for years and upholstered with stylish fabrics carefully picked out to withstand her two dogs, Soleil and Lily, who bring her a lot of joy and comfort. She upcycled most of her furniture herself, but if she did purchase something new, she made sure it was high-end from somewhere like Lulu & Georgia. This meant that she only purchased/upcycled what she really needed and she could be proud of everything in her home. She got rid of clutter and instead filled her vintage apartment with cut branches, fresh flowers, and living plants. "To bring the outside in when I can't get outdoors enough," she says.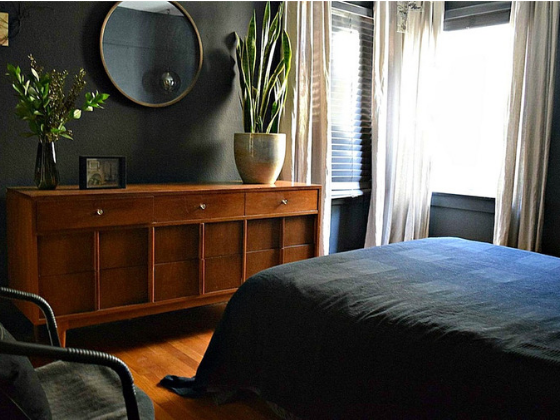 She paid particularly close attention to her bedroom, which she made into a sanctuary. "I spend a lot of time in there. I want to be as comfortable as possible. I believe in buying the best linens you can, because sleep is so important to your health. For me, since I tend to run hot, that's linen. I invested in a good mattress. I have dark blinds and curtains. And I have low-wattage pink bulbs that I use in the hours before bed." Those looking for inspiration to use in the redesign of their bedrooms may want to check out sources online such as Collov, seen here – https://collov.com/inspiration/bedroom. There should be plenty of ideas to be found there for a variety of interior design projects in the home.
"I'm proof that you can do things on a budget. You don't have to spend a lot."
As Schall worked on her home, she picked up serious DIY skills. She learned to work with tools and wood and even how to build furniture, which she also started making for clients. She also taught herself how to photograph indoor spaces, posting beautifully composed shots on her Instagram account, @21standbroadway, where she also showcases her design and baking skills.
The well-known design blog Design*Sponge saw Schall's pics and asked to feature her serene apartment as one of their popular home tours. The story includes a photo gallery and Schall's many tips and resources, including how she turned fabric into a striking wall covering in her bathroom, where she takes frequent soothing soaks in Epsom salt. "Being featured on Design*Sponge was an amazing experience," she says. "I got a lot of great feedback." There were a lot of other recommendations for the bathroom, making it more appropriate for someone who may lack mobility when in pain. For example, having glass shower doors may be more appropriate than a shower curtain as it it wouldn't leak, making the floor a slip hazard, it would provide support for getting in and out of the shower if needed and it would also be much easier to clean compared to taking a shower curtain off and having to put it back up.
Schall has worked with a few clients in the last couple of years, recently overseeing the chic makeover of a rental unit owned by a woman who was in recent remission from cancer. She designed as soothing bedroom for her, as well. Schall, who is naturally empathetic and has volunteered for years as a relationship counselor, found herself uniquely attuned to her client's needs.
"When you're going through something as significant as cancer or depression, having a space you love is so important."
Schall says you don't need to be a professional to create a sanctuary at home, nor do you have to be rich. She suggests three tips to her friends and clients alike.
Think about cutting back on clutter, even if you have to do it in baby steps. Once people start paring down, they often can't wait to get rid of more.
Consider choosing soothing colors in rooms where you get your rest.
Think of having fabrics and other surfaces that are easier to clean.
Share Your Endometriosis Story
You can help others better understand life with endometriosis when you join Health Stories Project to share your diagnosis and treatment experiences. Plus, you may qualify to participate in special projects!
Comments
comments