What You Make of It
As Steven Hawking slowly lost the ability to write, he compensated with visual methods for doing his work. Without his limitations, he may never have been known as one of the greatest minds in physics. Virginia Woolf used writing as a strategy to cope with severe depression. Frida Kahlo is best known for her self-portraits, many of which portrayed her in her sickbed and wheelchair. Stevie Wonder was a musical prodigy at the age of 11, and he's never seen his instrument.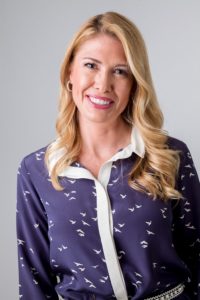 Like the luminaries listed above, Lisa Becker, founder of Ostomysecrets, has been living with an illness that could have limited her life, success, and freedom. Instead, she was able to turn her experience with Crohn's disease, an inflammatory bowel disease that is associated with inflammation of the lining of the digestive tract, into something truly magnificent.
Growing Up With Crohn's Disease Can Make You Strong
Becker once heard a fellow Crohn's sufferer describe the disease as like having food poisoning every day. The analogy resonated with her. Many people who suffer from Crohn's experience loss of appetite, frequent bowel movements, weight loss, low energy, and fatigue. Those with more severe cases can even experience bleeding, especially during bowel movements.
Becker remembers the symptoms of Crohn's coming on as early as nine years old and throughout all the challenges that come with this disease, she credits it for her unyielding positivity.
"The benefit to growing up with Crohn's is developing an irrepressible spirit due to living a life filled with having stomach pain on a constant basis," she says. "I only knew what I knew."
Teen years can be an emotional rollercoaster for most everyone, but as a teen with Crohn's, Becker had an even tougher time navigating those waters. She experienced fatigue, weight loss, and moodiness. These symptoms of a deeper problem were easy to miss in a beautiful, often smiling teenage girl. Even her closest friends didn't understand how sick she was, but eventually, adults started to take notice.
"I would eat a ton of food and then run to the bathroom after lunch," says Becker. "I didn't know it at the time, but a teacher followed to see if I was going to throw up in the bathroom. People thought I had anorexia or bulimia."
But Becker's problem was a little more difficult to pinpoint.
"It's a very tough disease because it's not visible. You may see someone get skinny, you may see someone get pale, but it's not an obvious thing," says Becker, "I wish it was more visible so people could understand. When I say I'm tired it means I can't move. It feels like a Mack truck has hit me and run me over," she continues. "I've learned to communicate better, because everyone says they're tired, but my tired is different."
Becker was officially diagnosed at 15, but her doctors and family didn't understand how severe her condition was for years because she had an incredibly high pain tolerance. Years of stomach pain and rushing to the bathroom fortified Becker and made her incredibly strong. Eventually, however, doctors started to understand that when she called to complain about the pain, they needed to treat it like a 9-1-1 emergency call – despite her constant smile.
Freedom Isn't Without Cost – But It's Worth It!
When things got really bad, before Becker underwent a radical surgery, life was limited. In addition to new diets, medication, constant pain, and fatigue, she lacked the freedom of movement and casual ease of mind that many of us take for granted. During the height of her most severe (and final) flare-up, Becker regularly documented going to the bathroom 35 to 45 times a day.
"Everywhere you go, you know where a bathroom is. Immediately," she says, "Walking into any new place, whether it was a mall, a restaurant, or someone's house, my first order of business was immediately locating the bathroom."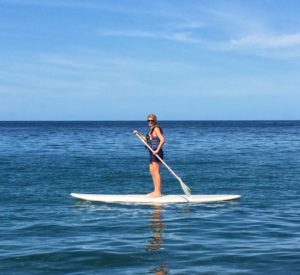 Though dramatic, surgery can be a life-changing reprieve. Becker opted for an ileostomy, a surgery to divert her small intestine through an opening in her abdomen. After an ileostomy, intestinal waste is passed out of the opening, called a stoma, and is collected in an ostomy bag that adheres to the skin.
"Surgery changed everything," said Becker. "I would have done it years earlier if I would have known it was such a significant difference."
She cautions that surgery isn't for everyone, "Ideally you are able to control the disease through lifestyle, diet and medication, but my medical state was very serious at the time."
For Becker, ileostomy surgery meant staying in the hospital for six weeks, facing a host of potentially life-threatening complications, and adjusting to life with a stoma and ostomy bag.
"Waking up with stoma, I was astounded, shocked, confused," She said. And the ostomy bag took a lot of getting used to, "It's a plastic bag on your skin that can be uncomfortable."
But for Becker, the tradeoffs were worthwhile. Over time life with an ileostomy became easier and more manageable. The stomach pains and urge to run to the bathroom were gone. Her newfound freedom finally sank in nine months later on a trip to Yellowstone. She ate something that didn't agree with her and got mild food poisoning. That's when she realized she didn't have to run to the bathroom or fall asleep on the bathroom floor anymore. All she had to do was lay on the hotel bed and wait for the ostomy bag to fill up and empty it. Simple as that!
"You grow up feeling like [the suffering is] always your fault," said Becker. "When that stops, it feels like the clouds part. It is truly wonderful."
[tweet_box design="default"] You grow up feeling like the suffering is always your fault. When that stops it is truly wonderful. – Lisa Becker, #Crohns[/tweet_box]
Your Greatest Achievement Might Just Come From Your Biggest Pain
After ileostomy surgery, Becker had her life and freedom back, with one big catch. Because of the stoma and ostomy bag, she struggled with how to comfortably dress in her pre-surgery clothes. At first, she wore clothes that were too big and baggy. It bothered her but she just wasn't comfortable wearing slim fit clothing for fear of noticing the ostomy bag
"I wanted to go to the beach and be comfortable. I felt I couldn't wear my old clothes," says Becker, "Some people have no problem with their bag hanging out, but for me, that wasn't who I was. I needed to figure out what I could wear that was comfortable."
"The bag started to consume my thoughts just like Crohn's had previously," she says. "I started obsessing. Where's the bag? Can you see it? Is it full?"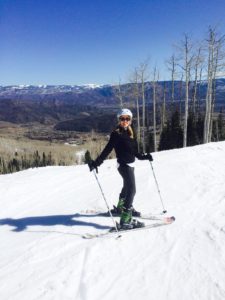 That's when the idea of Ostomysecrets, intimate apparel and accessories for people with ostomy bags, came to her. By creating underwear, wraps, and swimwear that cradles the stoma bag, Becker quieted the insecure voices once and for all. She was also able to share her newfound confidence with other women, men, and children who are struggling to manage life with an ostomy bag. These products help many adjust to life after ostomy surgery because there is no need for a special wardrobe or baggy clothing anymore.
"I had the first 3,000 pairs of underwear mailed to my house and there were all these boxes in the garage," said Becker. "I just looked at my husband like, 'What have I done?! This is crazy.' And he said to me, 'If you can help just one person feel the way these products help YOU feel, it will be worth it. It helps you feel better. It helps you feel more secure. Just make one person feel that way.'"
Becker did that and so much more.
"When the first pair of underwear went out," said Becker, "I remember the customer called me and said, 'Receiving your package was better than any Christmas gift I've ever gotten. It gave me the gift of my life back.'" Becker continues, "And you know what they say about Christmas presents…Giving them is much more fun than receiving."
Ostomysecrets has since blossomed and its products are in several countries helping thousands of people every day. She sold the company in 2012 and remains involved as a spokesperson and designer of new products.
The best part? Becker's gifting hasn't stopped there. She speaks nationally to patients and care providers about overall wellness and autoimmune disease. She also has a book in the works and is busy raising two children.
"My goal is to raise my two kids and to teach them that they can make anything a good thing and to figure out a way in life to make the world a better place. For me, that just happens to be making people aware of what it's like living with autoimmune disease and dealing with life after surgeries. I hope that by sharing my story, people are hopeful that they too, can live a great life despite the challenges we all face!"
Have you been affected by Crohn's or another health condition? Sign up to share your experiences with Health Stories Project!
Comments
comments