For many diagnosed with Celiac Disease, the initial emotional response is joy that doctors have identified the source of illness, and a renewed hope that a healthy life is once again possible. Soon after comes a realization that many of one's favorite foods are no longer an option, given dietary restrictions to combat the disease.
We've reached out to one of the web's most prominent gluten-free bloggers for a tasty, celiac-safe dessert recipe that proves gluten-free can still be delicious.
Danielle Dewar is a registered blogger with the National Foundation for Celiac Awareness and a proud member of the Gluten Free Global Community. She encourages individuals to educate themselves on what they are putting into their bodies. And when all else fails, her default advice is that if your body is rejecting something, you should probably stop eating it.
She followed this recipe to bake a birthday cake for herself last December, and insists it was the "best damn gluten-free vegan cake" she's ever made.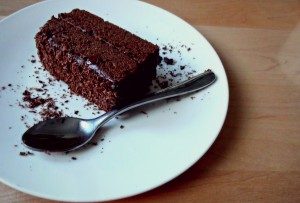 Chocolate Cake with New-Age Chocolate Frosting
For the Cake
Ingredients
1/2 medium sweet potato, steamed till tender and pureed with a hand blender
Pinch pink salt
2 tsp vanilla extract
1/3 tiny can of low fat coconut milk
1.5 cups water or coconut water
2-4 tbsp extra virgin olive oil (the more you add the more moist the cake will be)
4 tbsp raw cacao powder
1 cup buckwheat flour
1/2 cup quinoa flakes
1.5 tbsp apple butter
4-5 tbsp maple syrup
1/2 tsp baking soda
Liquid stevia to taste
Preparation
1. Preheat oven to 375 degrees Fahrenheit.
2. In a bowl with a flat bottom using a hand blender (or you can use a smoothie blender) puree all ingredients together until very smooth.
3. Taste for sweetness and add as much liquid stevia as you need (blending in little by little) to achieve a sweet chocolate cake batter flavor. Add a little extra salt if the flavor seems flat.
4. Line a 9″ round or square cake pan with parchment paper so it covers the bottom and sides.
5. Pour batter into center of pan and spread to the edges with a spoon. Top with vegan chocolate chips if desired and bake in the center of the oven until risen slightly and a fork inserted in the middle comes out mostly clean.
6. Remove from oven and allow to cool on stove top. Make frosting while cake cools.
For the Frosting
Ingredients
2-3 tbsp cacao powder
1 cup of new potatoes, peeled and chopped
Pinch pink salt
3-4 tbsp maple syrup
1-2 tsp vanilla extract
1 tbsp extra virgin olive oil
1-2 tsp vegan mayo
2-4 tbsp light coconut milk
Stevia to taste
2 tbsp chocolate or chocolate chips
Preparation
1. Peel, chop and steam 1 cup of potatoes until very tender and mashable (use a creamy variety, not mealy).
2. Puree with remaining ingredients (except chocolate) until very smooth.
3. Add stevia, little by little while blending until you achieve your desired sweetness.
4. Transfer to a pot over medium low heat, add chocolate, whisking until melted.
To Assemble and Store the Cake
Slice cake down the middle and transfer half to a big plate. Trim both halves to have straight edges.
2.Top with 1/3 of the frosting mixture, coating the top evenly with it using a butter knife. Place other half of cake carefully on top.
3. Pour remaining frosting on top and spread to the edges gently with your knife letting some spill down the sides. Spread the drippings over the sides evenly to coat.
4. Transfer the plate to a flat place in your freezer for 1 hour to set the frosting. Leave out for 10 minutes before serving or if serving later in the day or week, transfer to your refrigerator.
[tweet_box design="default"]The best damn gluten-free vegan cake ever made via @healthstories #gfbaking[/tweet_box]
Courtesy of Danielle Dewar, Baking Backwards
Danielle Dewar is the blogger behind Baking Backwards, where she shares photos and recipes for nutritious desserts, snacks and meals. With the exception of one or two of her first recipes, everything on the blog is gluten free and vegan and all desserts are sweetened with fruit and/or natural sweeteners. Danielle does NOT use stabilizers and thickeners like xanthan gum or guar gum in her recipes (for those that are sensitive to such ingredients). Instead Danielle's recipes use plant-based whole food ingredients. Danielle is an experienced baker. Before developing severe gluten intolerance, Danielle worked briefly as a pastry chef in a popular Toronto patisserie; she now works in marketing and uses her blog as an outlet for her baking passion. To ensure her recipes will please everyone (even those without a food intolerance), Danielle's recipes are tested by her gluten-loving husband, family and friends.
Have you been affected by Celiac Disease or another health condition? Sign up to share your experiences with Health Stories Project!
Comments
comments