Editors Note: Please consult a physician with any questions or concerns you may have about your health condition and/or treatment. The following story does not constitute medical advice.
As a kid, Dean Hall dreamed of swimming the English Channel. He hadn't really thought about it again until four years ago, not long after he was diagnosed with leukemia and lymphoma. He'd been paging through a journal he kept when he was 12 and rediscovered his boyhood fascination with such a challenging feat.
"Out of all the things, that sparked me," he says. "If I could swim the English Channel, I could prove to my daughter that I could live and that even if I died, I died doing something."
Hall's diagnosis came just two years after his first wife passed away from brain cancer.
He thought about his then 21-year-old daughter, still reeling from her mother's death. "I had to find some way to live," he says."Some way to survive. I knew purpose could bring people back."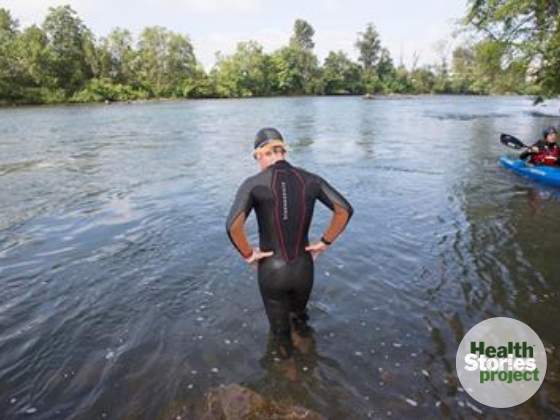 Instead of heading across the pond, though, the Portland,Oregon, resident decided to make a different kind of splash. Hall planned to swim the entire length of the state's scenic 187-mile-long Willamette River, a major tributary of the Columbia River that winds its way through Oregon's most populous cities. If he made it to the end, he'd be the first person to accomplish a full run.
 "Nobody would care about another middle-aged guy in a Speedo swimming to France," says Hall. "But I thought this might do the world some good. I wanted to inspire other active cancer patients not to give up on their dreams or drive because of a diagnosis."
Everybody thought he was crazy.
His doctors warned him to reconsider. His friends and family begged him to think it through. And the first time he went to swim at the local pool, it took him an hour to do 11 laps.
"I started swimming every day," he says. "Before long, I was gaining weight, my numbers were going in the right direction, and my head was starting to clear."
The journey begins
Hall, who grew up exploring the wilderness with his outdoorsy parents and had been fit and active his entire life, was 54 when he started his epic journey in 2014.
His 79-year-old father, a survivor of blood cancer, paddled ahead of him in a kayak the entire way, looking out for logjams and other river dangers. Hall swam as many as 14 miles a day, using mindfulness techniques he'd learned in his longtime meditation practice.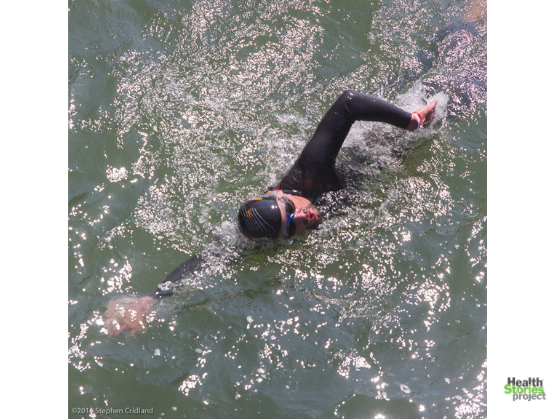 At first, nobody took much notice. Hall, who was trying to fundraise for the Leukemia & Lymphoma Society, kept his faith. When he reached Salem – 100 long miles from his starting point– the media picked up his story, including the Associated Press. Suddenly, he was a sensation. Boaters on the river honked in support and handed donations to Hall's father.
The last day of his swim was the prettiest. It was sunny and he picked up a tail wind as he flowed with the tide toward the mouth of the Columbia. Hall's cheering mother, daughter, and other family members and close friends were at the finish line in Portland, as were members of the Willamette Riverkeeper, a nonprofit dedicated to restoring and protecting the river. "It was quite a celebration," says Hall.
No evidence of cancer
Less than a year later, he had even more reason to celebrate. He had no evidence of cancer (NED).
He wasn't done with raising awareness about it, though."Once you do something like this, it gets in your blood," he says. "Pun intended." When he saw a PBS documentary on the River Shannon in Ireland, he knew he'd met his next challenge. "It looked a lot like the Willamette," says Hall. "And my great-grandmother was Irish; I'd always wanted to go."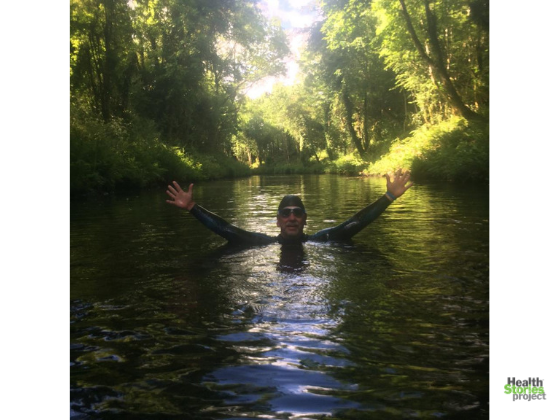 Last summer, he headed to Ireland with his daughter, who served as his safety supporter. He raised money and awareness for the children's cancer organization, the Childhood Cancer Foundation of Ireland, run by five mothers. His daughter paddled ahead of him up the long river, which included swims through three lakes, two so huge they were considered inland seas. The riverbed was made of sharp-edged rocks and lined with thick reeds, and winds and strong currents made some days nearly impossible.
"It was one challenge after another," says Hall, who was helped and cheered on by at least a hundred volunteers. "Not one day went by that I didn't end up bleeding in the river. It took 27 days in all, longer than expected. But it was very healing for both of us. We met a lot of wonderful people and raised awareness for the foundation on local media."
Hall, still NED, met a woman in 2015, a fitness instructor who helped him get in his best shape yet and is now his wife. A therapist, he's also branching out into motivational speaking and wellness coaching, helping cancer patients and people with chronic illness.
And he's still got rivers on his mind. He's currently planning a swim a 200-mile river in New Zealand, where he'd like to raise money for childhood cancer. He hopes to inspire others through his "adventure environmentalism." "When you swim a river it is only natural to fall in love with it," says Hall. "As Jacques Cousteau said, 'People protect what they love.'"
"I think the best way to heal from cancer is to love life with all that you have," he says. "Does everybody have to swim a river? No. But if they passionately pursue their dreams, it gives them the best chance to heal."
Join Us
Are you or someone you care for living with leukemia, lymphoma, or another health condition ? Sign up to share your experiences with others.
Latest Posts
Comments
comments