On a recent visit to see his family in Los Angeles, Rick Guasco started chatting with his 27-year-old Lyft driver. He mentioned he worked for an HIV/AIDS service organization in Chicago and the young man confided that he was HIV positive — something he hadn't even told his friends yet. Guasco, who was diagnosed with HIV in 1992, shared his own status and offered him assurance.
"He didn't know about the AIDS epidemic," says Guasco, who is active on social media, where he discusses living with HIV and posts a daily photo of his medication. "He only knew about HIV in the last five years. For him, it had not been an epidemic; it's just popping a pill. But he still hadn't disclosed his HIV status to anybody and that's because of the stigma."
When it comes to misinformation, Guasco has heard it all.
"Some people still think you can get HIV from kissing or being in the same pool, or they think that AIDS has been cured by some breakthrough discovery that's been blown out of proportion. There's a lot of fake news or news that isn't properly understood. And it can add to the stigma."
Related: How Do We Reduce HIV Stigma? 6 Ideas from People with HIV, Advocates, and Educators
Fighting stigma led Guasco in 2010 to launch "A Day with HIV," a social media campaign that this year will take place on September 23. "I wanted to make a campaign that was based on people," he explains. "There is no one single face of HIV and I wanted to make the point that everybody is affected by HIV." The aim is to make people aware that HIV can effect anyone, of any orientation and not just homosexuals that you'll find on the likes of https://www.twinki.xxx/ and similar websites.
There are some great pictures-and personal stories-being shared today for #adaywithhiv. I hope you get a chance to check them out, but I also hope you'll post one yourself if you haven't already, and share your story (time, location, and what inspired your photo). pic.twitter.com/aLDcKXT1aI

– Rick Guasco (@RickGuasco) September 23, 2019
He was inspired by "A Day in the Life of America," an ambitious 1976 photojournalism project that sent photojournalists across the country to get shots of American life on a single day. "I thought that was a cool idea," he says. "And in this age of social media, what if we all captured a snapshot of our day and posted it on social media with the same hashtag – #adaywithhiv – and say what inspired them to take the photo and capture this moment."
The campaign asks those who post to include the time and location of their pic and what made them want to share it. "In one instance, a transgender woman recounts how she was raped, and that's how she got HIV," says Guasco. "Another was of a college student walking across campus; his best friend had just told him he was HIV positive, and was taking the pic in honor of his friend."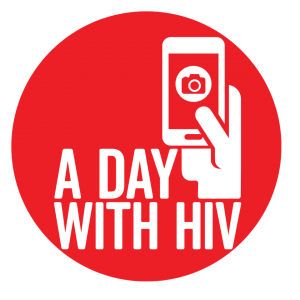 When Guasco was first diagnosed in 1992, he didn't have the luxury of hiding his status. A few months previously, he'd noticed a spot on his ankle. Soon his arms, legs, and face were dotted with purplish spots, and Guasco had a sinking feeling he knew exactly what the lesions were. Sure enough, he came up HIV positive and was also diagnosed with Kaposi sarcoma, a type of cancer that causes soft tissue lesions. It primarily affects people with compromised immune systems and caused many early AIDS deaths. At the time, Kaposi sarcoma was classified by the Centers for Disease Control and Prevention as an endstage AIDS-defining illness.
As he was leaving the clinic, he was handed a packet of three publications, all from the same publisher, Test Positive Aware Network (TPAN), a local HIV/AIDS services organization.
"One was a directory of HIV services, one was a membership newsletter, and one was the magazine Positively Aware. I quickly realized that information was going to be the key to my survival. I wanted to get as close to this organization as I could. Through the newsletter, I found out about a clinical study for Kaposi sarcoma and got into that."
But TPAN — which was founded by a newly HIV positive gay man in 1987 — would play an even bigger role in his life. A graphic designer and writer, Guasco offered his services and started working for Positively Aware in 1995. Though he eventually moved on to The Advocate, he jumped at the chance to return to the Chicago-based publication again in 2010. A former colleague who was now editor invited him to return.
"TPAN's dual mission has been to share information and support," says Guasco. "Positively Aware gets into the treatment aspects of things — the science and medicine behind it — as well as other aspects of your life that might be affected by HIV."
This slideshow requires JavaScript.
The free magazine, which comes out six times a year, will celebrate its 30th anniversary next year. When Guasco pitched his A Day in the Life campaign to the editor, he suggested the first day of fall. "I chose the autumnal equinox because not only is it a change in seasons, it signifies a change in thinking." Last year the magazine received more than 400 responses with the hashtag and published several different versions of the print issue's cover from the submissions.
People living with HIV should get onto treatment, but Guasco thought he was healthy enough to forego medication until his T-cell count began to decline. He began treatment in 2015 with a single-tablet regimen, but wondered how he'd remember to take his daily pill. That's when he started posting a daily pill-taking pic on social media.
"In posting a photo to remind myself to take my meds, I discovered that I was also normalizing HIV treatment," he says. "But I also started getting message from people every week who either had a question or confided about their own anxiety or stigma about being on treatment. A couple of times when I forgot to post, people checked in on me."
In 2016, Guasco was diagnosed with anal cancer, and underwent chemotherapy and radiation treatment over the summer of 2018. At 55, he is now free of anal cancer. "I prefer to call it, 'butt cancer," because all cancer is ass," he says, laughing. "You have to have a sense of humor about anal cancer. You just do. Humor is a very important part of dealing with things."
Related: Humor Is What Heals Us
He says HIV patients are now living long enough to die from the same diseases and conditions as other people, ironic proof of just how far things have come. "People still die from HIV so I'm not going to trivialize it, but for people getting treatment, cancer and heart disease and age-related conditions are becoming much bigger concerns."
Guasco says he'll be an advocate for HIV awareness for the rest of his days. "When I found out I was HIV positive, I was 28 and didn't think I'd live to see 30," he says. "But here I am! If a young person is diagnosed with HIV today and they get on treatment, they'll live a virtually full lifespan. Not that there won't be any complications, but it's no longer a death sentence."
Participate in #ADayWithHIV by posting using the official hashtag. You can also share using our iOS app, by clicking here.
Comments
comments